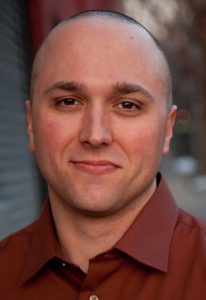 Brandon Bruce is an award-winning director, actor, and fight choreographer residing in Alabama, where he relocated to serve as Artistic Director for the Birmingham Children's Theatre. Bruce's work is greatly influenced by his passions for provocative performance, new works, theatre for young audiences, music, and history. As the Senior Manager of Performance Interpretation for the Colonial Williamsburg Foundation, he directed The Revolutionary City, The Beloved Women of Chiota, the ballad opera Thomas & Sally, the pantomime Harlequin's Holiday, and his own adaptation of The Servant of Two Masters. From 2004 to 2007, he served as Artistic Director of Chicago's BackStage Theatre Company where he directed The Ruling Class, The Skin of Our Teeth, Terra Nova, and the world premiere staging of Denise Druczewski's Inferno.
Other directing credits include The Little Foxes at Shattered Globe (nominated for three Joseph Jefferson Awards, including Best Production), Slawomir Mrozek's Tango at the Chopin Theatre (Best Director from Chicago's Orgie Awards), his own adaptation of The Duchess of Malfi (Strawdog Theatre), Catch-22 (Signal Ensemble), and Einstein is a Dummy, James and the Giant Peach, and Cinderella (Birmingham Children's Theatre). In 2007, Time Out Chicago Magazine listed him as the "Top 20 Chicagoans to Watch."
Bruce has performed throughout the country, working with such theatres as Quill Theatre, Park Square Theatre, Minnesota Jewish Theatre, Cleveland Play House, Signal Ensemble, Porthouse Theatre, the Yale Summer Cabaret, Iowa Summer Rep, and numerous companies in the Twin Cities and Chicago theatre scenes. Prominent roles include Graziano in The Merchant of Venice, Oronte in The School for Lies, Dwight in Dead Man's Cell Phone, Dogberry in Much Ado About Nothing, and the title roles in Hamlet and Macbeth.
As an educator, Bruce has taught acting, voice, combat, movement, and playwriting for colleges across the country, including the University of Montevallo, the University of Iowa, Grinnell College, Concordia University Chicago, and Dominican University. He received his MFA in Directing from the University of Iowa (where he received the Iowa Arts Directing Fellowship) and a BFA in Acting from Kent State University.